Tee Off and Support Wheelchair Sports Annual Golf Tournament
Save the Date – June 2, 2024 LOCATION:  Tiburon Golf Club
Register your team or sponsorship online at https://greatplainspva.org/GolfRegistration.html.
Download a sponsorship or registration form here.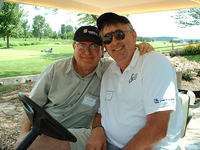 The Tee Off and Support Wheelchair Sports golf tournament was started in 2003 by Dan Dolezal and Gary Baber, two long-time volunteer instructors in our Wheelchair Tennis Program. Dan was celebrating his 50th Birthday and wanted to gather some friends together to play golf and raise some funds for the Great Plains PVA Sports and Recreation Program. What started out as a small golf outing, quickly turned into a full 18 hole tournament that continues to generate funding for sports and recreation programs that provide equal opportunities for children and adults living with disabilities. Jim Thompson, Russell Falconer, Mat Nisotis, and Justin Cox have joined Dan and Gary in their generous efforts to make the golf tournament a continued success.
Thank you to our Platinum Spoke Sponsor!

Thank you to our Gold Spoke Sponsor!